You asked for a better collaborative decision-making platform - and we listened! During the last months, we've worked hard to launch a new, better Discuto for you. And here it comes: +30 features to help you save time and effort running your discussion, have more people engaged, customize your projects, and enjoy an overall more intuitive experience. 
If you're one of our 20.000 existing users, you've been automatically upgraded to a 30-day free premium trial. In case you're new to Discuto sign up for your free trial today - and enjoy unlimited access, create new discussions and explore the benefits for yourself! We'll also run webinars and live demos to help you discover the new features and interface. 
What's new? We've improved three core aspects of Discuto. 
We've optimized Discuto's discussion platform, so you can discuss documents, ideas and proposals easier and faster with your crowd.
We've redesigned the ideation tool - it now looks and feels like an integrated part of Discuto - and you can use it to gather ideas from your crowd.
As a large number of you is running various discussions and ideations at the same time, we've launched a place where your crowd can get an overview of all of your projects - on your project page.
In this blog post, we'll uncover what's new on the discussion platform. During the next couple of weeks, we'll update you about the ideation platform and project page.
OPTIMIZED DISCUSSION PLATFORM
Based on your feedback from over 7,500 discussions, we improved Discuto's discussion platform on both sides:
As moderator, we've made it easier to setup a discussion, to send out personalized email invitations, to create a custom experience, and to know at a glance what's going on.
As participant, you'll find that joining and participating in a discussion is now super easy and fun.
5 new core features of Discuto's new Discussion Platform
Personalized mass emails - invite participants easily
Optimized onboarding - reach higher engagement
Voting & commenting - enjoy easy participation
Filters & consensus algorithm - spot controversial areas faster 
Description tab - give project background & overview
Curious how it looks? Here's each feature described in detail.
1. Personalized mass emails - invite participants easily
What you asked for
"I want to send out personalized emails, using the name of the participants." "I'd like to add attachments and format the email."

What Discuto now offers you
We've integrated a powerful email tool into Discuto that allows you to send personalized mass emails to your participants. With an easy-to-use editor you can create custom emails and add attachments. Before sending the email to your entire list, you can send yourself a test email.
2. Optimized onboarding - higher engagement
What you asked for
"I'm worried that Discuto or other platforms are too technical for our team to get used to." "Not sure, if our participants will know how to use it."

What Discuto now offers you
A new quick onboarding helps discussion creators and participants to get started. Discuto's automatic reminders and new gamification system keeps participants engaged and coming back. Now, Discuto will do the work for you!
3. Voting & commenting - easy participation
What you asked for
"I want it to be easy to scan through other people's comments. To quickly get an overview, before I vote and comment myself."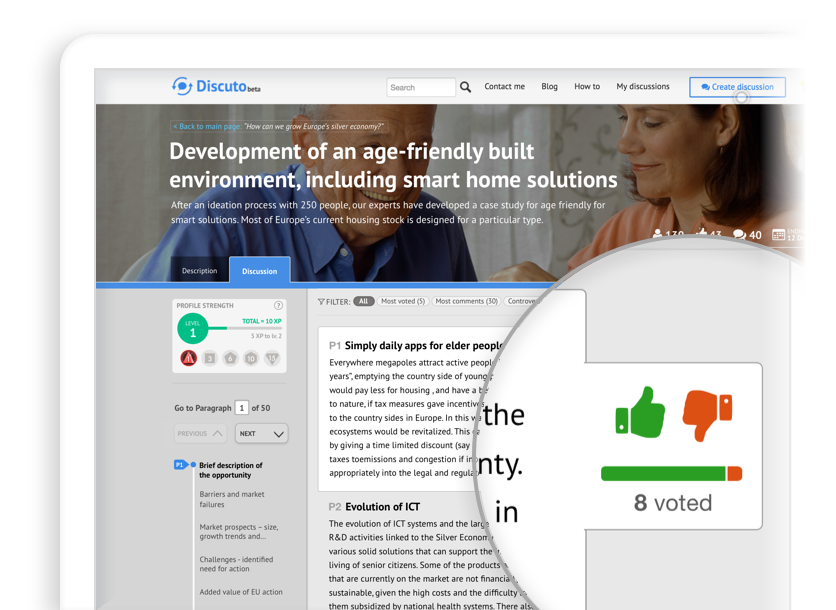 What Discuto now offers you
With the newly designed voting and commenting system, your participants will find it easy to share their opinion. A clean interface allows conversations to flow in a transparent way. There are two modes to view a discussion now: one for easy reading, and one for easy commenting.
4. Filters & consensus algorithm - spot controversial areas faster
What you asked for
"As moderator, I need to make sure we reach consensus. That's why it's important for me to get a quick overview of the controversial paragraphs."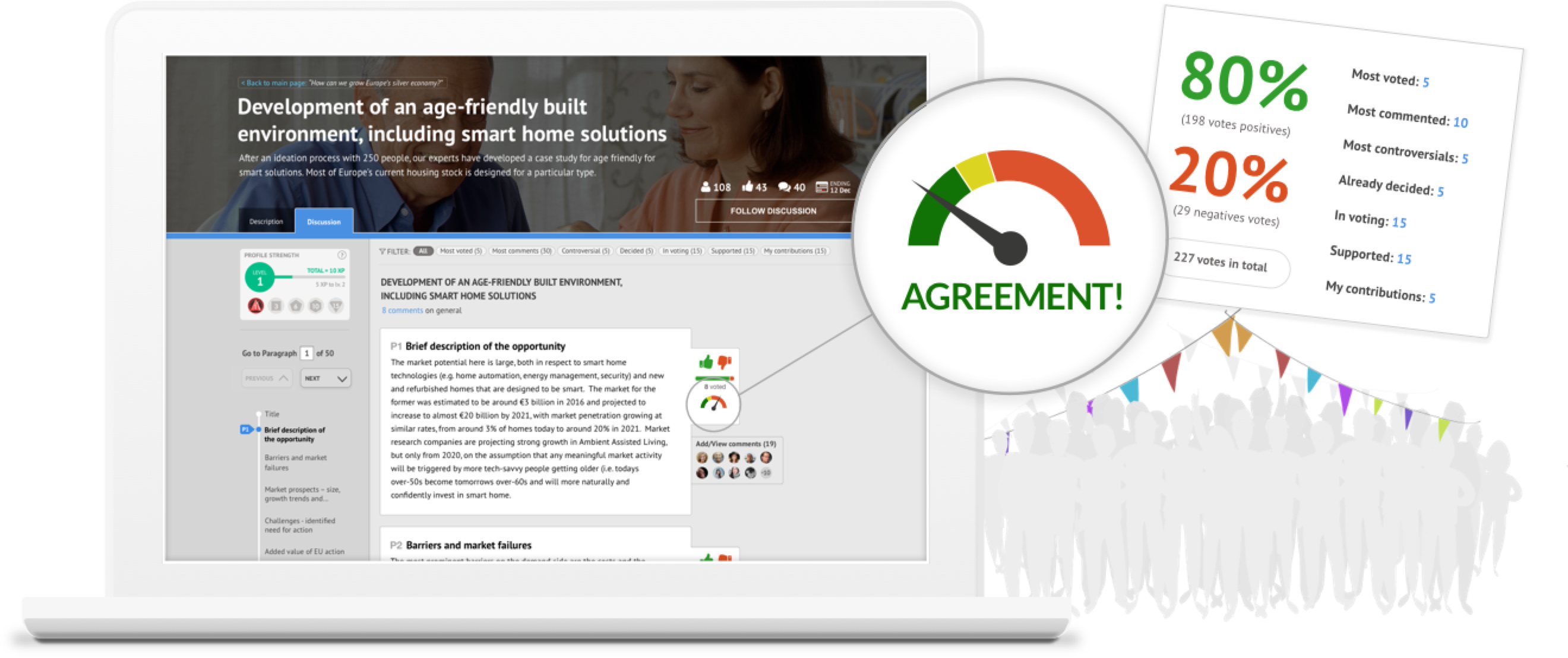 What Discuto now offers you
By using our enhanced filter options you can now simply filter for the most controversial topics. We also added "most voted", "most commented", "decided", "in voting", "supported" and "my contributions" to allow you to only see what's relevant for you.
5. Description tab - give project background & overview 
What you asked for
"It would be great to have space to describe our project in detail." "A status overview would allow participants to see at a glance what's going on - how many votes, comments, etc."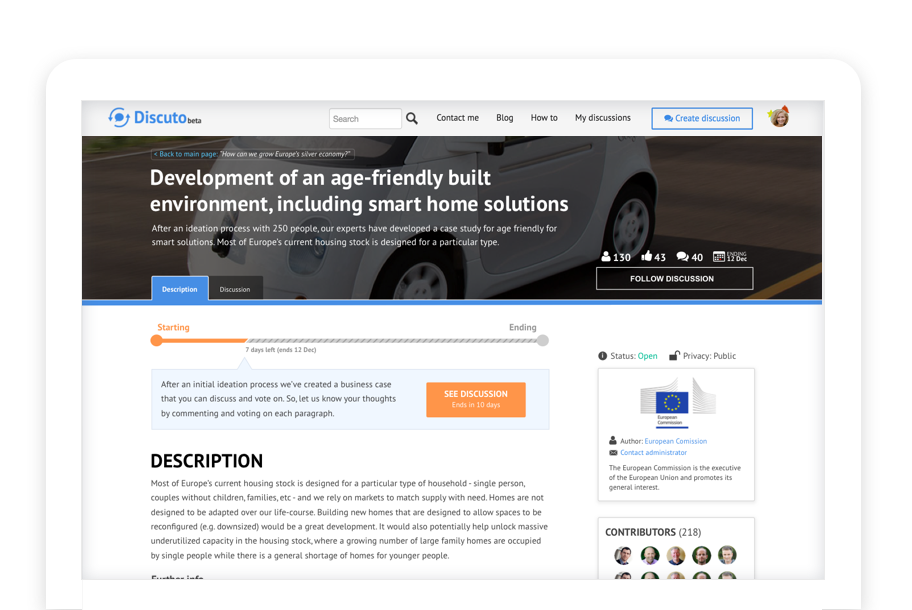 What Discuto now offers you
Each discussion now has its own description tab where users find all relevant information about your discussion as well as a status on current participation. This allows you to give participants a background of your project and increase engagement.
JOIN OUR DEMO DISCUSSION
To help you get used to the new user interface and discover all new features, we've set up a demo discussion which you can access here.
In the next days, we'll invite you to a webinar where our founder Hannes Leo will guide you trough the process of setting up a new discussion.
If you have any questions in the meantime, our premium support is available for you 24/7. Write an email to support@discuto.io and we'll get back to you within 24 hours - promise!
Keep on collaborating!
FAQ
What will happen to my current account?
Nothing. While we've migrated all accounts to the new, better version of Discuto, you can still access your account including your discussions with your registration email address and password.
Do I have to pay more?
No. All our existing users are upgraded to the Premium functionalities for 30 days after the launch. After that we'll switch all accounts to free accounts. Then you can decide if you want to upgrade to a paid version.
Do I need to update my mobile app version too?
No, not yet. Our majority of users uses the desktop version of Discuto. That's why we decided to first roll-out and test the new functionalities on desktop. As our desktop version is fully responsive, you can still use Discuto on mobile and tablet.
I have more questions. Can you help?
Yes, we love to! Contact us at support@discuto.io with any questions you might have and we'll get back to you within 24 hours. Promise.
---
---