Submitted by Hannes Leo on 2013-12-02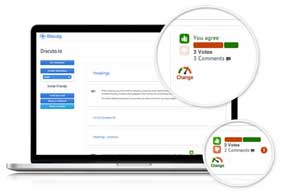 We launched discuto.io on 30 October at the Web Summit in Dublin, Europe's largest tech conference. The feedback was excellent and we are working hard to continuously improve the service. 
But what is Discuto for? 
Discuto is a modern decision-making platform that mimics a classic offline process: proposal->debate->decision->implementation. 
The challenge when applying the above process is how to negotiate each step in a way that organises interaction, collaboration and creation, before leading to consensus and decision-making.
This is where Discuto offers a solution.
We have tested the Discuto approach on many occasions, finding a surprising impact on decisions made. Not only were new solutions found, but also through the discussion these were adapted to the specific situation. This led to progress in debates which had previously lasted for years. 
This is a breakthrough in large-scale decision-making processes. And there's more...
One of the best things about Discuto is its efficiency. The set-up allows real-time document-based debates, instead of sending around track-changed Word files to multiple recipients. And this works for groups large and small, documents brief or lengthy. The larger and more active the crowd, the larger the productivity gains. 
The advantages
A great number of people can be involved, sharing knowledge and reaching consensus, via a simple and straightforward process: 
You prepare your proposals, strategies, suggestions, etc. in a document and then upload it to the Discuto platform. 
This is debated by your chosen participants (or by the general public if it's an open debate). Any controversial issues are highlighted, and voted/commented on. 
You read, respond and re-adjust your document, keeping an eye on the consensus meter. If it's in the red, there isn't consensus. 
You continue to follow the process until you reach a satisfactory conclusion. Then it's time to download the paper, with or without showing the edits made, and implement whatever you have collectively decided on. 
Insert picture of consensus meter
Implementation is probably the most important result of using Discuto; along with decision-making and getting things done. The debate is a necessary and important element, enabling you to find the best solutions while using the knowledge and expertise of the participants.   
What kind of tasks, documents and decisions can Discuto be used for?
These can be very diverse, ranging from major decisions with far-reaching consequences, to routine coordination tasks and document reviews. 
The best way to see if it works for you is to try it!
Don´t hesitate, upload your document and start inviting your community today. 
---
---