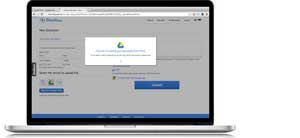 Our latest Discuto update means you can now upload a document to Discuto directly from Google Drive. And to make things as simple as possible, you choose the source — your drive or your Google Drive.
Here are 3 steps showing you how:
1 - Start a new discussion
When logged in to Discuto, go to "My discussions", then "Create new discussion", and add:
Discussion title
Information for participants
Discussion end-date
The document
2 - Selecting the Document
When selecting the document, you can choose from different sources using the "Select the source to upload file". Click the Google Drive icon and you can browse your Drive system using a file picker application.
3 - Authorising Discuto to access Google Drive
To access your Google Drive with Discuto, you need to provide authorisation. Click the "Open from Google Drive" button and a new window will appear, prompting you to grant Discuto access.
Discuto can then provide you with the Drive picker, where you can browse, select and upload your document.
For more information, see this video showing the process of logging in, authorising access and uploading from Google Drive to Discuto.
For more information on how the process works take a look into the following video explaining the process of logging in, authorizing the app to access the Drive and upload a document from Google Drive.
---
---