Submitted by Hannes Leo on 2014-01-02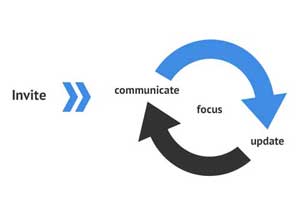 Creating, managing and developing a discussion can seem like a challenge, but it's easier than you might think. 
The key is keeping people informed and up-to-date with developments, which is why Discuto comes with a messaging system. 
Here are some other ways Discuto can help, along with some general discussion tips:
1. Inviting users
You can use Discuto's email template, and you can write your own invitation, explaining your reasons and motivation. If it's a public discussion, publicise on social media sites (with a link to Discuto), tweet about progress, announce it at workshops and conferences, etc. — we're sure there are no limits to your marketing genius!
2. Communication
Communicate through Discuto as you would face to face. Be clear what you want from your participants, eg give opinions, suggest alternatives. Let them know why they've been asked, what you'll do with their feedback. And let them know when the discussion closes.
2.1 - You can put all this in the "Information for Participants" box, and add it to your invitations or reminder emails. 
3. Using status updates
These keep you informed about the discussion's progress and they tell you when somebody comments. The more you reply to the comments, the more feedback you're likely to get, so we recommend asking questions and thanking contributors.  
4. Keeping it dynamic
The Discuto messaging system is designed to help you create and manage a dynamic discussion. Invited participants that haven't joined will receive reminders after 1 day, after 7 days, and just before the debate ends. Participants are notified when somebody replies to their comments, or if a paragraph which they've voted or commented on has been changed. 
5. Maintaining momentum
People tend to participate for two reasons: 
They are interested and/or influenced by the topic
They feel they can have an impact on the discussion
Reasons for not participating:
If someone isn't responding, try contacting them (without being a nuisance of course), or write an email or talk to their peers/friends. But don't take it personally — there are hundreds of reasons why they aren't answering. They might just be too busy!
6. Focus on Discuto
Keep the document debates, discussions and opinions on the Discuto platform. Having parallel discussions on social media sites will only dilute the outcome, you risk missing some useful comments and it makes it harder to get something out of the feedback you received. 
7. Your community
Last but not least, inform your participants of the changes made in the document, letting them know where their feedback influenced your thinking. Giving feedback, thanking users and demonstrating that you've listened will greatly increase the willingness of your community to participate in your next discussion.
---
---