Policy Action proposals to facilitate the use of Crowdfunding for Culture
0 days left (ends 31 Mar)
Go to discussion, participate and give your opinion
description
Crowdfunding has been growing substantially and billions of euros have been raised through the crowd. Yet, the cultural and creative sectors (CCS) are not very familiar with this new funding tool. In order to better understand and evaluate the potential of crowdfunding for creatives and cultural organisations, the European Commission launched Crowdfunding4Culture.
What actions should public authorities take in order to raise awareness, create trust, train and link creative communities in using crowdfunding?
Following an expert workshop 23 potential actions have been identified by the crowdfunding4culture team in 5 different areas: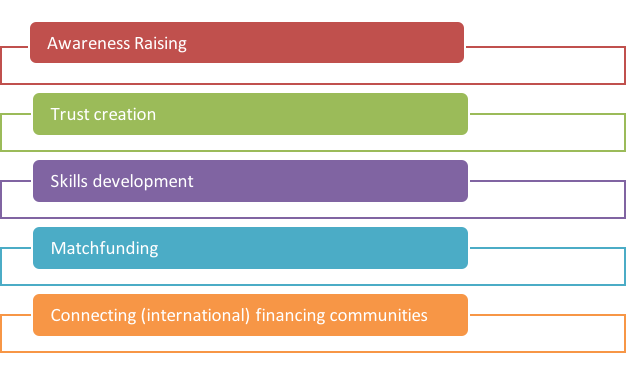 These actions, targeting crowdfunding platforms and cultural organisations as well as local, regional and EU policy makers, aim to improve the understanding and uptake of crowdfunding for cultural projects.
Join the Discussion & Shape European policy on Crowdfunding for Culture
We invite cultural organisations, crowdfunding platforms and backers to have a say in the future of crowdfunding for cultural and creative sectors in Europe:
Vote for or against each proposed action
Improve the actions by adding suggestions in the comments
Propose new actions in the comments
Sharing means caring. Invite peers to join the public discussion
Sign up now (discussion closes at 31.03.2017) and help shape the future use of Crowdfunding!
Further info
LATEST ACTIVITY
LEVEL OF AGREEMENT
MOST DISCUSSED PARAGRAPHS
CONTRIBUTORS
(167)



























+139